Our dogs have become an important part of our families for so many reasons.
They bring us unconditional love and add so much life and livelihood to our homes.
Over time, we have become more knowledgeable about the importance of keeping our dogs healthy by choosing the right food, taking them on walks and keeping them occupied during the day.
Of course, our annual vet visits are a must and even dental care is a necessity.
But, what happens if your dog suddenly comes down with a very serious illness and needs care immediately?
Or gets hit by a car during one of your morning walks?
Do you have the financial means to care for your dog in either of these scenarios with the escalating cost of vet care?
It's at times like these that dog insurance is so important to have and a blessing!
Why Purchase Dog Insurance?
Dog insurance is essentially the reassurance that you have coverage to pay the medical bills for your dog if an injury, accident or illness occurs.
By enrolling in a policy before your dog develops any serious condition, you can save anywhere from 70% to 100% of your vet bill.
And that's a relief both emotionally and financially.
Make sure to enroll your dog before any new condition develops.  Because then that ailment will be considered pre-existing and you won't be covered.
Even chronic conditions like ear infections can be reimbursed for the rest of your dog's life if they haven't been deemed pre-existing.
What To Look For In A Dog Insurance Policy
All of the top pet insurance policies will cover at a minimum the following:
Illness
All Accidents
Chronic Conditions
Congenital & Hereditary Conditions
Cancer, Diabetes
Specialist Visits
Hospital Stays
Emergency Care
What Is Covered Under Dog Insurance?
Surgery
Ultrasounds
X-rays
Blood Tests
Prescription Medications
Alternative Treatment
What Isn't Covered Under Dog Insurance?
Pre-existing conditions
Routine Procedures – Unless you enroll in a wellness plan
Cosmetic Procedures
Anything Birth-Related
What Is The Best Age to Enroll in Dog Insurance?
The best time to enroll your dog in pet insurance is when he or she is young and healthy and before any pre-existing conditions develop.
Even something like hip dysplasia that occurs in one hip will generally not be covered if your dog's other hip starts to show signs of the disease.
Also, the younger the dogs are, the lower the premiums.
Most dog insurance plans allow you to enroll your dog at 8 weeks or more.
Waiting Period
The waiting period is the time that it takes after you enroll your dog in a new policy.
The typical waiting period is from 10 to 30 days.
It's during this that pet insurance provider determines if your dog has any pre-existing conditions or illnesses.
Coverage Plans
You want to make sure that you are getting your dog the best, most well-rounded plan available.
Look for a comprehensive insurance policy that will reimburse you for all accident and illnesses.
An accident only policy only covers accidents which can be limiting.
Wellness plans are also available (at an additional cost) that cover routine procedures that are easily paid out of your pocket.
They are added to a comprehensive or accident only policy.
How Much Does Dog Insurance Cost?
The price of dog insurance can depend on a lot of different factors and not just the coverage you choose.
The monthly premium rates will usually average from $25 to $40 for your dog.
Factors That Affect Price
Deductible
The higher the deductible that you choose will relate to a lower premium.
The typical deductible averages around $300.
The best deductibles are the annual deductible model which you pay once each year on your first vet bill.
The other deductibles: per-condition/annual and lifetime that place a limit on certain conditions.  AND you pay for every condition which can add up fast!
Coverage Limits
Look for a benefit limit that is unlimited and doesn't put a cap on how many vet bills are reimbursed or even unlimited lifetime.
Some companies have limits only up to $15,000 and if your pet has a serious injury, you can easily surpass that numbers.
Healthy Paws, on the other hand, has an unlimited benefit option and even a lifetime.
Reimbursement
Most dog insurance companies have a certain amount that they will reimburse you on the vet bills.
The range of reimbursement is usually 70% to 90%.
Look for a policy that reimburses you on the vet bill.
Some companies have what is called benefit schedules reimbursements which means you have a set amount per condition.  This can be limiting.
Location
The city that you live in can affect the price of the premium.
If you live in rural Nebraska, your rates will be less than if you live in Omaha.
Age
As your dogs' age, the premiums increase.
However, even older dogs can benefit from pet insurance.
Breed
Some dog breeds are more expensive to insure than others.
A pug which has respiratory issues could be more expensive to insure than a beagle.
Dog Insurance Company Reviews and Customer Service
When you decide to enroll in dog insurance, the company reviews are a great resource.
Make sure the company's policyholders are pleased with their services and claims are paid within a few weeks.
The customer service is also important because you want to make sure your questions are being answered politely and efficiently.
Now that you know what to look for in a dog insurance policy, below is a sampling of our top 5 dog insurance companies to help you get started:
Top 5 Dog Insurance Companies
Healthy Paws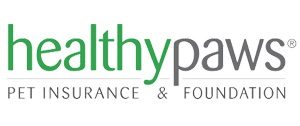 Highlights
Unlimited benefits in all plans (including lifetime!)
Dog owners love Healthy Paws with an A + rating.
Alternative therapy treatment offered.
Hereditary and congenital issues – covered!
Annual deductible model, from $150 to $750.
90% reimbursements on actual vet bills.
Claims approved and paid quickly.
Discounts from 10 to 15% for military personnel/membership groups
Pricing Is Competitive
Your dog insurance plan can start at $32 a month.
Our full review will give you more information on Healthy Paws.
Embrace
Highlights
Dog owners have good things to say about Embrace!
Behavioral therapy and alternative treatments available
Wellness plans option to add.
Annual deductible model – to $1,000.
Benefit limits cap at $15,000 (not unlimited)
65% to 90% reimbursement choices
$50 healthy dog pet discount and 5% if the dog is neutered or spayed.
Pricing Is Competitive
Your dog insurance plan an start at $24 s a month.
Our full review will give you more information about Embrace.
Figo
Highlights
Dog owners love Figo and they have an A+ BBB rating.
Hip Dysplasia, if cured for a year, is covered!
Plans include coverage for vet exam fees.
Reimbursements up to 100%
Benefit limits range: $10,000 to unlimited
Annual deductible – choose between $50 -$500.
Pet cloud which features a pet community.
Pricing is competitive (a little more expensive)
Your dog insurance plan can start at $48 a month.
Our full review will give you more information on Figo.
Petplan
Highlights
Dog owners have good things to say about Petplan!
Dental care and periodontal disease coverage.
Heredity and congenital conditions are covered.
Covers dental care and periodontal disease
Reimbursements on vet bills from 70 to 90%.
Choice of annual or per condition deductible (up to $2,500).
Discounts: 10 % for online registration, military and service pets.
Pricing Is Competitive
Your dog insurance plan can start at $30 a month.
Our full review will give you more information on Petplan.
Pets Best
Highlights
Dog owners are happy with Pets Best service!
Preventative care plans are available.
Behavioral therapy, rehab, and alternative treatments.
Reimbursement on vet bills: 70 – 90%
Benefit limits: $5,000 up to unlimited
Vet helpline available 24/7
No age restrictions,
Claims are paid very quickly – 5 days.
Pricing Is Competitive
Your dog insurance plan can start at $32 a month.
Our full review will give you more information on Pets Best.
Summing Up Dog Insurance
Dog insurance is important as it can really cover you and your dog if something dire or unexpected were to occur.
No dog owner ever wants to be in the position that you need to take out a loan to cover an emergency vet bill for your dog.
There are a lot of common medical problems in pets, like cataracts in dogs.
For a relatively inexpensive monthly premium, you can rest assured that your dog will always get the best care.
Make sure to call at least two to three different companies before deciding.
There are some other top dog insurance providers in our list of the 10 best pet insurance companies if you would like some more options!