Best Pet Insurance in California
Free Car Insurance Comparison
Compare Quotes From Top Companies and Save
Secured with SHA-256 Encryption
UPDATED: Jul 5, 2022
Pet Insurance U receives compensation from the third parties included on this site. This includes payment for clicks from our site to insurance providers' sites and quote requests generated. Our rankings and reviews are not affected by payments from the insurance companies. The compensation we receive allows the site to be free and regularly updated. Our goal is to review every pet insurance provider, but not all companies are listed on the site.
And many of the companies we review do not pay us anything. We simply rate, compare and review their plan because we feel it will be valuable to you. Our reviews are guaranteed to be unbiased, professional and advertising compensation does not influence rankings.
California is a dog and pony show…minus the pony.
Farmer's markets are veritable runways for the latest doggy fashion fads.
And it's not uncommon to see parents pushing baby strollers…without the babies.
Dogs are so popular in the Golden State that we renamed the city of Santa Monica after them.
California has gone to the dogs…While the love affair seems cute to some, others dismiss the over-the-top pampering as perplexing—even obsessive. It's no stretch of the imagination California pet owners will do just about anything for their furry family.
But California folks have always marched to the beat of their own drum and there's no law against projecting human traits, emotions, and intentions onto our furry friends.
It makes sense that these very same pet parents would find the best pet insurance coverage, answering the question, "Is it worth it?" with a resounding YES!
Need Pet Insurance?
FACT: Pet insurance pays up to 90% of vet bills when your pet is sick or injured!
The Best Pet Insurance in California
Here are the top 5 providers of pet insurance in California:
Healthy Paws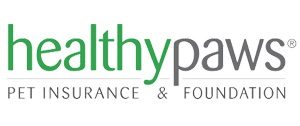 Healthy Paws is the most recommended pet insurance provider in the United States and the highest-rated company doing business in California.
Healthy Paws Insurance Agency has earned a 9.8/10 lifetime satisfaction record by providing policyholders the highest payouts, fastest claim processing, and best-in-class customer service.
Customers love Healthy Paws for their unlimited medical care coverage, with no lifetime limits, which customers love.
Related: 10 Things You Must Know Before You Buy Pet Insurance
Dog and cat owners also like that Healthy Paws covers genetic health problems that many other providers prohibit or severely reduce reimbursements for. They do have a standard 15 day waiting period and 12 months on hip dysplasia. They will also cover:
x-rays
emergency care
chronic conditions
accidents
illnesses
cancer treatments
Healthy Paws does not offer a wellness plan that covers spay/neuter, dental cleanings, vaccines, and exam visits.
As a disclaimer, no pet insurance policy will cover pre-existing conditions.
Customers Really like Healthy Paws
Healthy Paws earned an A+ rating with the BBB
Healthy Paws maintains a 5-star Yelp rating
Consumer Affairs ranks Healthy Paws 5 out of 5 stars
Trust Pilot reviews have Healthy Paws at 5 out of 5 stars
Facebook business reviews are 4.7 out of 5 stars
Healthy Paws Sample Quote: 1-Year Old Female Golden Retriever in San Diego, CA (zip code: 92121)
Healthy Paws will pay 80% of your vet bills with an annual deductible of $250 and unlimited payout. For this coverage, you'd pay $50.68/mo.
Embrace
Embrace Sample Quote: 1-Year Old Female Golden Retriever in Bell, CA (zip code: 90201)
Embrace covers 80% of your vet bills but your annual deductible will cost $750 vs. $250 for Healthy Paws.
Also, your monthly premium will be $35.06, which comes to $15.62 less per month than Healthy Paws.
Embrace limits claim payouts to $30,000 per year online, but unlimited payouts via phone enrollments.
Keep in mind, however, that Embrace is more comprehensive than Healthy Paws.
Healthy Paws does not cover exam fees, they do not cover hereditary conditions like hip dysplasia after age 6, they charge the co-pay and then apply the deductible (which results in a smaller reimbursement back to the client), they don't cover behavioral conditions and don't offer free medical history reviews.
Therefore, Embrace's value shines through in this example.
Petplan
Petplan Sample Quote: 1-Year Old Female Golden Retriever in Sacramento, CA (zip code: 95822)
Petplan reimburses 80% of your vet bills with an annual deductible of $250 — identical coverage to Embrace.
Alternative care is becoming increasingly popular, particularly in senior pets and Petplan is one company that will cover alternative therapies in all their plans without an extra charge.
However, Petplan is considerably more expensive than the two plans previously mentioned on this list.
Expect to pay $27.11/mo. extra if you choose Petplan over Healthy Paws.
And you'll pay $13.34/mo. more if you select Petplan over Embrace.
Also, Petplan limits your annual benefits to $15,000 in coverage.
Pets Best
Pets Best Sample Quote: 1-Year Old Female Golden Retriever in Santa Barbara, CA (zip code: 93101)
Pets Best pays 80% of your medical bills with a $200 annual deductible.
Pets Best will cost you $78.69/mo. and you'll get 80% of approved vet bills paid but with a restrictive annual payout limit of just $10,000.
In other words, with Pets Best you'll pay more for less.
Trupanion
Trupanion Sample Quote: 1-Year Old Female Golden Retriever in San Jose, CA (zip code: 94089)
Unlike other companies, Trupanion doesn't offer flexible coverage.
All Trupanion plans reimburse 90% of approved medical bills.
Unfortunately, Trupanion's Deductibles are per-condition vs. annual.
For example, with the plan pictured below, you'd pay a $200 deductible for every condition your pet was treated for.
And those deductibles renew annually so you have to pay them every year, that can get very expensive.
Trupanion's membership dues are expensive too — $95.12 for 90% coverage with a $200 per-condition deductible.
Enter your ZIP code below to view companies that have cheap pet insurance rates.
Secured with SHA-256 Encryption
Should CA Residents Purchase Pet Insurance
Cali residents are famous for pampering our pets but according to veterinarians:
98% of CA Pets Aren't Covered Against Accidents & Illnesses.
With veterinary bills skyrocketing and surgery costs easily exceeding $10,000, thousands of dogs and cats in California are being abandoned or euthanized because their owners can't afford treatment costs. Pet insurance plans are also offered to exotic pets and birds, rabbits, and all manner of other animals.
According to the American Veterinary Medical Foundation, 2,070,760 pets live in California.
But only 2% of those cats and dogs are protected by a health insurance policy.
Fortunately, California is one of just a few states to implement consumer-friendly pet insurance regulations that make pet health insurance plans in CA some of the best in the country.
There are currently 10 pet insurance companies doing business in California.
With the state government behind California consumers, you can be confident you've answered the question, "Is pet insurance worth it?"
State regulations require CA pet insurers to be forthright with their clients by…
bringing uniformity to policy language
improving transparency and disclosures, especially concerning limitations and exclusions
Related: 10 Things You Must Know Before You Buy Pet Insurance
The Worst Pet Insurance in California
ASPCA Pet Insurance
ASPCA Sample Quote: 1-Year Old Female Golden Retriever in Los Angeles, CA (zip code: 90011)
Beware of: $5,000 annual limit.
Also watch out for: Implied trust because of the ASPCA name.
This insurance provider pays a licensing fee to use ASPCA's famous trademark but isn't actually associated with American the Society for the Prevention of Cruelty to Animals.
With a $5,000 annual limit, ASPCA should put the word "insurance" in quotes.
California vets charge thousands of dollars for basic procedures, rendering ASPCA's coverage basically useless.
Nationwide Pet Insurance aka VPI
Nationwide Sample Quote: 1-Year Old Female Golden Retriever in Los Angeles, CA (zip code: 90011)
Beware of: Negative reviews and customer complaints.
Nationwide, formerly VPI (Veterinary Pet Insurance) is one of the lowest-rated pet insurance companies in California.
Nationwide Pet Insurance is criticized for being a scam, refusing to cover reasonable costs, poor customer service, and for denying claims that should be covered.
Also, watch out for: Poor customer service, denied claims, long processing delays.
In all fairness, Every company should receive its fair shake. But… With hundreds of negative reviews, it's obvious that Nationwide's customers are very dissatisfied.
Shopping For Pet Insurance in California
Pet health care costs in California have increased by 70% in the past 5 years. Whether you're in San Francisco or Los Angeles, CA residents need to look out for truly comprehensive coverage that will pay for pricey vet care costs like accidents and illnesses.
The best-rated pet health insurance company in California is Healthy Paws (A+ BBB, 9.8 out of 10 customer rating, 5 out of 5 stars on Trust Pilot, 4+ stars on Yelp).
Unlike other providers, Healthy Paws has no lifetime or annual coverage limits.
Healthy Paws also pays for the most expensive types of health problems, congenital conditions, and hereditary health issues — which can cost thousands or even tens of thousands of dollars to treat.
Healthy Paws pays up to 90% of your vet bills for genetic health problems and other costly health conditions that your cat or kitten may face.
We are a free online resource for anyone interested in learning more about pet insurance. Our goal is to be an objective, third-party resource for everything pet insurance related. We update our site regularly, and all content is reviewed by pet insurance experts.